Adults Weighted Blankets
Karmara weighted blankets help you sleep better and feel calmer, naturally. Perfectly breathable and suitable for any season. Complete with a washable and replaceable cover.
Shop Adult's Weighted Blankets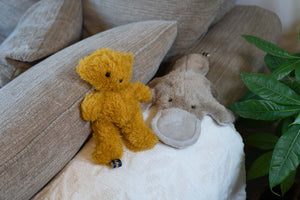 Weighted Pets
Weighted plush companions that provide calming comfort and relaxation. Anywhere, any time. Handmade with love and naturally weighted with microglass beads.
Weighted Stuffed Animals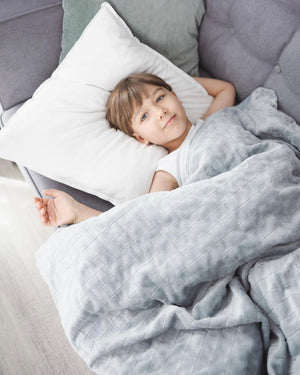 Kids Weighted Blankets
Helps your child feel secure, calm and comfortable. Naturally helps kids drift off faster and sleep for longer. Ideal for children with ADHD, Autism & Anxiety.
Shop Kids Weighted Blankets
"We love the freedom of choice that Karmara's blankets offer, with the gorgeous designs, two sizes and four different weights."
"While most blankets need an additional cover in order to change up their look, Karmara's blanket is designed with a double-sided cover."
"Karmara's Weighted blankets provide tonnes of mental and physical benefits and are especially helpful for those who have autism."
Sleep. The way it should be.
We won't let sleepless nights keep you from a happy life. The Karmara Weighted Blanket is here to help you relax, unwind and reclaim your nights. 

Crafted to help you sleep the whole night through, its silent micro glass beads provide gentle and relaxing pressure all over your body. It moulds to your shape as you move, and the 100% organic cotton cover helps keep you cool as you sleep.
Why Karmara Customers are Happy Sleepers...
Calms your nervous system through Deep Touch Pressure Therapy
Free from harmful chemicals and perfect for sensitive skin (100% organic cotton)
Removable, machine washable cover
Order Yours Today
How Karmara Brightens Your Day
Feels Like a Giant Hug
Reduces Stress & Anxiety
Scientifically proven to relieve tension and reduce stress hormones, so you can relax peacefully.
Boosts your Mood
Helps release happy hormones like Serotonin, putting you in a happier, calmer mood
Replaceable Cover
Karma Switch - A Splash of Colour
The Karma Switch product range is made from light, breathable organic cotton and has a completely replaceable cover. It looks as good as it feels.
Buy Karma Switch
Snug & Warm
Karma Snug - Your Cosy Retreat
The Karma Snug is the ultimate warm and cosy weighted blanket. The two sided, removable cover is perfect for summer and winter. In Kids and Adult sizes.
Buy Karma Snug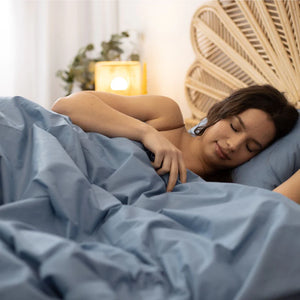 About Karmara
Our Story
Karmara was founded by two best friends who felt that helping others was more important than a normal 9-5.
About Us
The Science
How Weighted Blankets Work
Discover the profound impact of deep touch pressure therapy and learn how our weighted blankets make you calmer, happire and less stressed.
Learn How Weighted Blankets Work